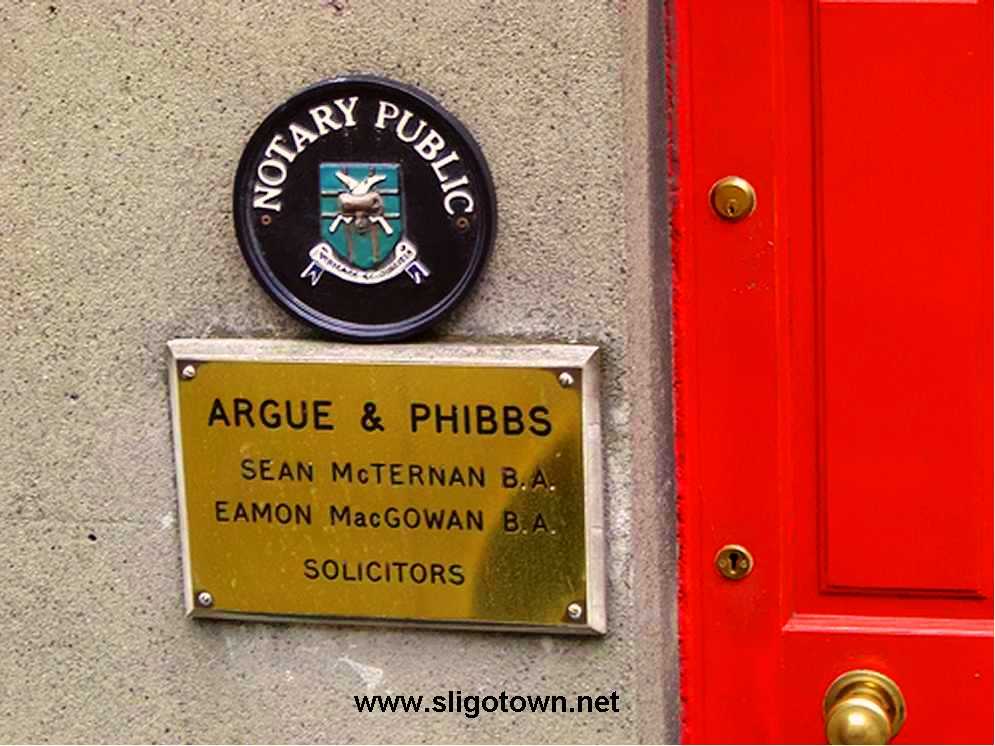 This long-forgotten Sligo based firm of solicitors, whose offices are located directly opposite Sligo Courthouse, must surely have the most unusual business name in the world, Argue and Phibbs (co-ordinates 54.27005 -8.47160).
This unlikely sounding professional partnership is not a name which was not at all fictitious or made up for a laugh, these names belonged to two real men, Mr W. H. Argue and Mr Talbot Phibbs.
Mr W. H. Argue's father was a policeman who came originally from County Cavan but upon retiring from the R.I.C. moved to live in Sligo.
His partner, Mr Talbot Phibbs, was the second eldest of four sons and one daughter of local landlord William Phibbs of Lisheen (formerly known as Seafield House), which is in the Kellystown area, near Ransboro.
Talbot Phibbs took his L.L.D. degree at Trinity College in Dublin in 1903 where he went on to practise for a firm of solicitors in Molesworth Street in Dublin for a period of time before moving back to Sligo Town where he entered into a partnership with W.H. Argue.
The Argue and Phibbs firm of solicitors started in 1919 after a solicitor named Mr Williams, who was the Crown solicitor in County Sligo, and for whom Mr Argue worked, died a bachelor and left his offices to Mr Argue in his will.
It has been reported by a newspaper that in the 1920's, "Argue and Phibbs" were actively considering taking on a third member of staff, a solicitor from England, by the name of "Cheetam"
After Mr Argue's death, the firm continued to trade as "Argue and Phibbs" until the death of Mr Talbot Phibbs in 1944.